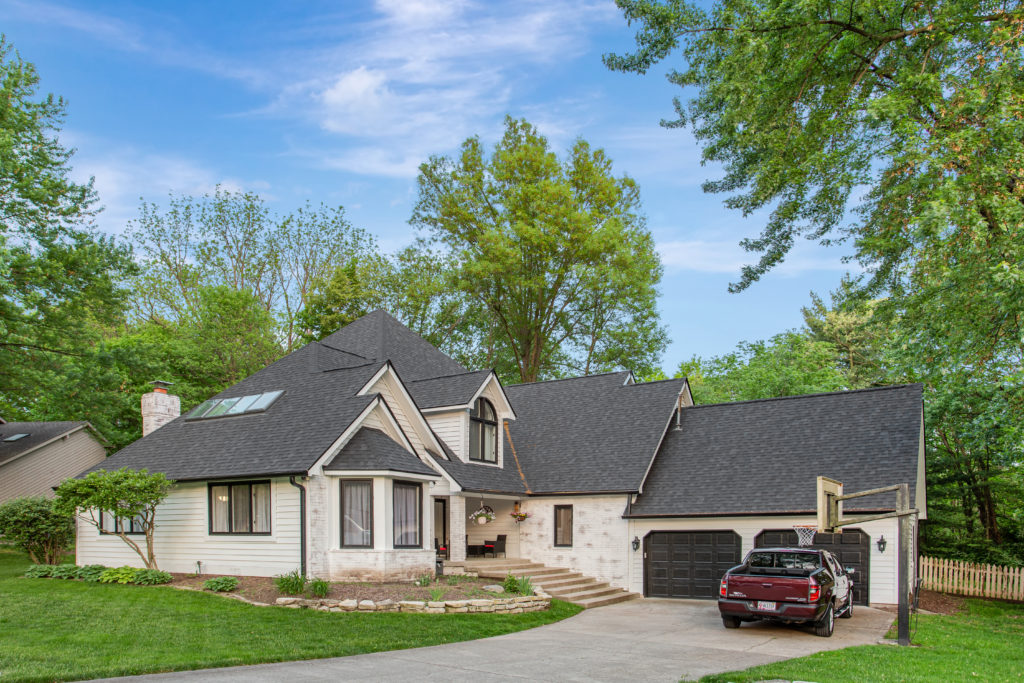 Roof Replacement in Carmel
Top rated roof replacement contractor that does the job well!
Roof replacement is a serious job. Considering the fact that it is the most important part of your home, roof replacement shouldn't be taken lightly. Call the trusted experts at Element Roofing to replace your roof with high-quality, Owens Corning products. We are an Owens Corning Preferred Contractor with expertly-trained installers. Not only can a residential roof replacement be one of the largest purchases a homeowner makes, but it is also very important because it protects your family and the rest of your home. This is where Element Roofing comes into the picture for roof replacement in Carmel, IN. Element Roofing is a BBB Accredited business and a GAF Certified Contractor. We can take care of your roof repair and roof replacement job and do it in the most efficient possible manner. Our 5-star customer ratings are proof of how good we are at the job we do! Contact us today at (317) 548-8445 to find out more about how we can help.
Do You Really Need Residential Roof Replacement?
The answer to this question depends on a few factors:
How old is your roof?
Does it require extensive repair?
Are there any missing shingles?
Are there any cracked pipe collars?
Are there any roof leaks into the attic?
Are there any water spots on the ceiling?
Are there any signs of rusted metal?
If you answered yes to any of these questions, call the experts at Element Roofing for a free, thorough roof evaluation. We will arrive promptly, perform a full diagnosis of the problem, and provide you with options.
An Honest, Customer-Centric Company
At Element Roofing, our residential roof replacement services in Carmel, IN revolve around providing an unmatched experience for our customers. This philosophy has been instilled in the core of our work culture since day one when we started offering roof replacement and construction services. We have ensured that the same level of service is maintained for all our customers. This is what has led us to get an A+ RATING ON ANGIE'S LIST and also win the SUPER SERVICE AWARD.
Check out our customer ratings:
Home Advisor 4.9/5
Facebook 5/5
Google 5/5
Yelp 5/5
Nextdoor 5/5
Qualified to Do the Job!
We are an Owens Corning Preferred Contractor and a GAF Certified Weather Stopping Contractor. With this award, we are in the top percentile of contractors in the country. You can trust us to bring unparalleled expertise in the roof replacement you need for your home! Our roofing experts will perform a thorough check of your current roof and then carry out the process ensuring utmost safety before we start our roof replacement services.
Timely Service with Complete Transparency & Assurance
We treasure our customers and look forward to building long-lasting relationships. With this in mind, our first priority is to make sure that your roof replacement is carried out in a hassle-free manner. Our roofing experts will schedule an appointment and arrive on time for the job. You don't have to stress out! Rest assured our goal is your satisfaction. We will also provide advice on how to maintain your roof so that it can stay in good condition for years to come. Your high-quality Element Roofing roof will bring you peace of mind and last for years to come.
We Stand Behind Our Promise
It is our promise that you will have the best roof replacement experience by choosing Element Roofing for your replacement in Carmel, IN. We will always stand behind our promise. No matter how bad the condition of your roof is, we are here to do the job with utmost care. Here's what makes us the best roof replacement professional to carry out the job. We focus on:
Honesty in evaluation and during work
Customer service in quickly responded to inquiries
Quality in installing dependably, quality products with highly trained installers
Your Smile Is Our Biggest Reward
We believe that customer happiness and satisfaction is the biggest reward for any business. Nothing brings more satisfaction than seeing your customers smile after their roof replacement or roof repair job is completed. Over the years, we have managed to win the trust of hundreds of customers by providing professional, reliable, and quality roofing services in Carmel, IN. And we will continue to do so for years to come.
Get a Free Quote!!!
We understand that roof replacement can be a large job; you want to make sure it is done with the right products and trained installers. This is why we make it a point to give you a free quote for our service before we take on the roof replacement job. Call us today and let's talk about how Element Roofing can help you with your roof replacement. Our experts will provide you with a free, custom quote for your roof.
So what are you waiting for?
Call us at (317) 548-8445 for expert roof replacement services in Carmel, IN!!